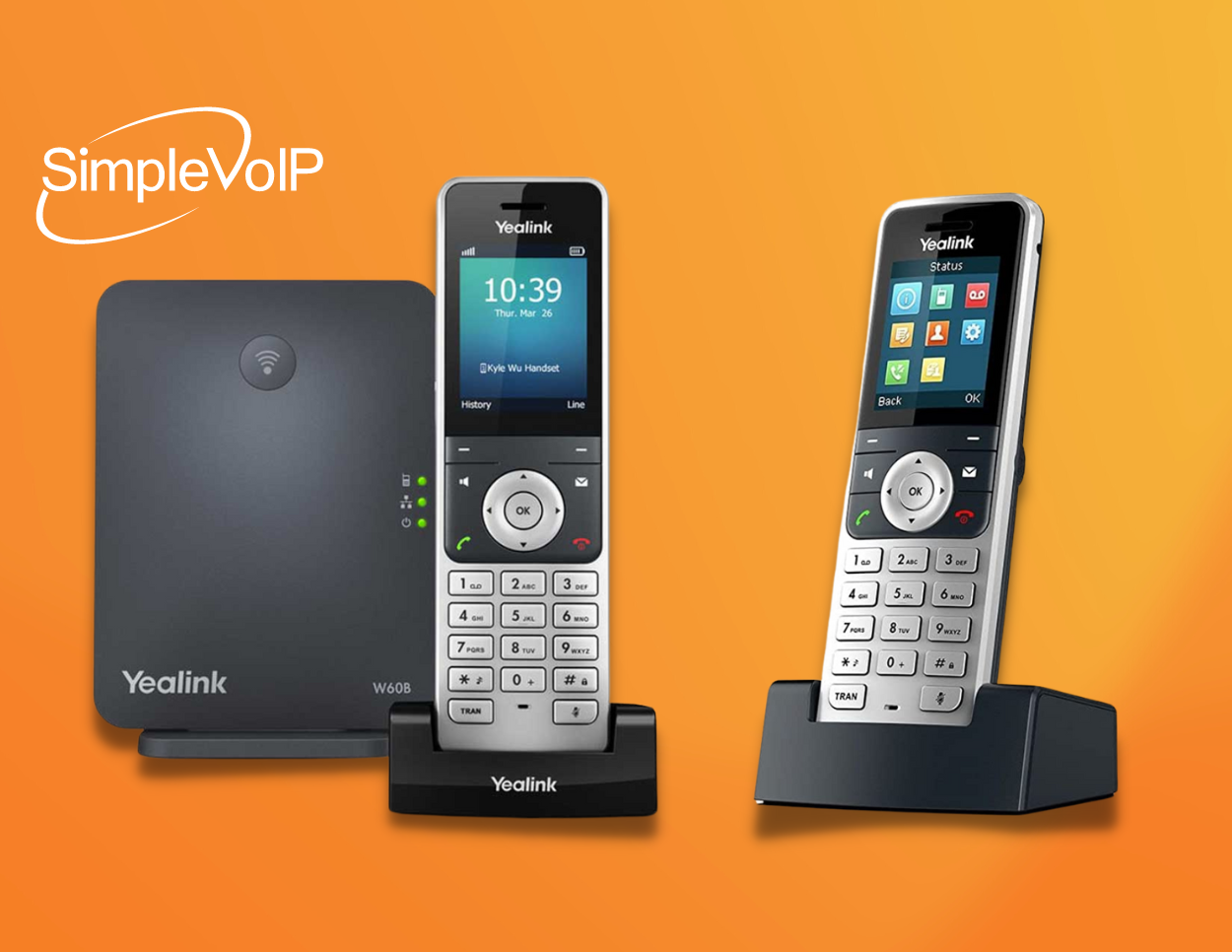 What is DECT Monitoring and Why Is It Important for Business Communications?
Posted By:
Arisa Himmelein
If your business uses a VoIP service provider, you must have already encountered the word DECT, but what exactly is it? Well, DECT stands for "Digital Enhanced Cordless Telecommunications." It's a wireless communication technology for cordless phones and voice communication devices. With DECT, you can make phone calls without cables or wires, making it popular for businesses.
DECT uses a frequency band for voice communication, meaning the sound quality is clear and reliable. It's often used in VoIP systems, where voice communication is transmitted over the internet.
As a VoIP service provider catering to businesses with multiple locations, SimpleVoIP recognizes the importance of DECT monitoring in ensuring top-notch quality and reliability of voice communication. This article will delve into DECT monitoring and its many benefits to businesses of all sizes.
DECT Monitoring
DECT monitoring is the process of overseeing the performance of wireless devices used for voice communication, such as cordless phones, to ensure high-quality and reliable voice communication. This monitoring is typically done using specialized hardware and software that capture data from these devices, allowing for the detection and resolution of issues related to call quality, dropped calls, and other performance parameters that may affect user experience.
DECT devices consist of a base station and handsets that communicate with each other via radio signals. These devices are used in various applications, such as cordless phones, headsets, and conference phones. DECT devices have become integral to VoIP communication systems, offering wireless connectivity, improved call quality, and mobility.
DECT monitoring tools capture data from DECT devices, such as signal strength, call quality, and handover performance. These tools analyze the data and provide reports on the performance of DECT devices and the VoIP communication system.
The Importance of DECT Monitoring
Network congestion, latency, and other factors can impact voice communication over the internet, so DECT monitoring is critical for VoIP providers to maintain high-quality voice communication services. DECT monitoring enables VoIP service providers to proactively identify and address potential issues, averting significant problems and ensuring users enjoy a high-quality voice communication experience.
Benefits for Businesses with Multiple Locations
DECT monitoring ensures consistent and seamless voice communication across all locations, empowers businesses to troubleshoot and resolve issues related to infrastructure modifications, and allows them to customize voice communication systems to suit specific needs and preferences.
Seamless and Consistent Voice Communication
Companies with employees and teams in different places need good communication to work together. DECT monitoring helps companies ensure their voice communication works well in all locations. This means employees can have an easy and consistent experience when they talk to each other. When communication is good, companies can get more work done, work better together, and make customers happier.
Proactive Troubleshooting and Issue Resolution
DECT monitoring also equips enterprises to detect and resolve issues emanating from network or infrastructure modifications. By monitoring DECT devices, businesses can ensure their voice communication systems perform as anticipated, even as they undertake changes to their network or infrastructure. This proactive approach enables businesses to minimize downtime and avoid costly disruptions to operations.
Customization and Optimization of Voice Communication Systems
DECT monitoring allows enterprises to customize and optimize voice communication systems based on locations and use cases. By analyzing data from DECT devices, businesses can discern trends and patterns in employee voice communication usage, which allows them to customize their systems to cater to specific needs and preferences. This customization helps businesses optimize their voice communication systems, improving efficiency and reducing costs.
SimpleVoIP's Proactive Support
Proactive monitoring is a critical aspect of our service offerings at SimpleVoIP. We constantly monitor each phone's status to ensure they are functioning correctly. For example, when a phone goes offline, our monitoring system confirms that the internet is operational and other phones are working correctly. In that case, we will automatically create a trouble ticket, initiate the diagnosis process, and notify your team. Additionally, we monitor call quality metrics to identify network issues that may be causing poor call quality.
Our Proactive Support is designed to provide exceptional support to our customers. All SimpleVoIP customers receive standard support. However, customers can upgrade to our Proactive Support, which includes several essential features.
These features include auto-generated tickets for offline phones, calls to the site within 15 minutes of the alert, automated issue correlation with primary and backup circuits, intelligent ticket linking and suppression for sites with open ISP issues, remote phone reboots, including calls to the site if required, and proactive ticket generation in response to inbound/outbound call errors.
Additionally, we offer a 24/7/365 US-Based Support Organization, a web portal for live monitoring of each phone in your network, listed by location and status, a support hotline (855-899-VOIP), support tickets generated via email at support@simplevoip.us, custom support process (CSP) developed with each customer to determine the optimal flow of tickets between our help desk and yours, and optional integration with your ticketing system.
Our support service includes 24/7/365 live answer onshore support centers located in Boise, ID, and San Clemente, CA. This support covers call routing, directory listings, phone features, handset replacement, training/instruction, battery replacement, configurations, and free moves/adds/changes.
Proactive support is also available for individual handsets. We call you when a phone is offline, and Proactive Support customers can rest assured that SimpleVoIP monitors all phones for status changes and quality degradation. Our team initiates the troubleshooting process immediately when a phone goes offline, so customers don't have to wait for a call from the location.
We provide DECT health monitoring, including powered-off, dead batteries, and signal strength in cordless phones.
SimpleVoIP's Approach to DECT Monitoring
At SimpleVoIP, we take DECT monitoring seriously and have developed a comprehensive approach to ensure our clients enjoy the best possible voice communication experience.
We offer a range of DECT monitoring solutions tailored to meet the needs of enterprises with multiple locations. Our solutions combine advanced hardware and software tools, providing real-time monitoring, analytics, and reporting to help you maintain top-notch voice communication quality and reliability. In addition, our team of experts works closely with clients to proactively identify and resolve issues, minimizing downtime and ensuring seamless voice communication.
DECT monitoring is essential in guaranteeing the quality and reliability of voice communication within a VoIP ecosystem. VoIP service providers like SimpleVoIP can leverage DECT monitoring to deliver high-caliber voice communication services while enhancing overall service offerings.
Looking to take your business communications to the next level? Our proactive support is here to help! Experience the peace of mind that comes with knowing your voice communication is in expert hands.
Contact us now to learn more
about it and how we can help your business thrive!